Regular attendance is very important for the development of your child. Our goals are to prepare your children for the 1st grade. Please insure your child attends regularly so that they don't get behind in their assignments.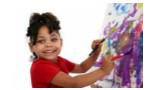 You must provide a (2) week written notice of withdrawal from the program. If this notification is not provided, you are required to pay all tuition and fees for two (2) weeks, whether or not child attends. When child is withdrawn, she/he will only be eligible for readmission based upon space availability and all other enrollment criteria. If, when child is withdrawn and parent is left owing any tuition or fees, parent will be required to bring their account current prior to making a re-enrollment application.
A ten percent (10%) tuition discount is offered for one additional child from the immediate family enrolled in the center. The discount is applied to the lowest tuition rate. Family discounts are not applicable to membership fees, supply fees, agency co-pays, and special programs. These discounts are available only to those parents who pay in advance for services rendered.